Vegan Twice-Baked Sweet Potatoes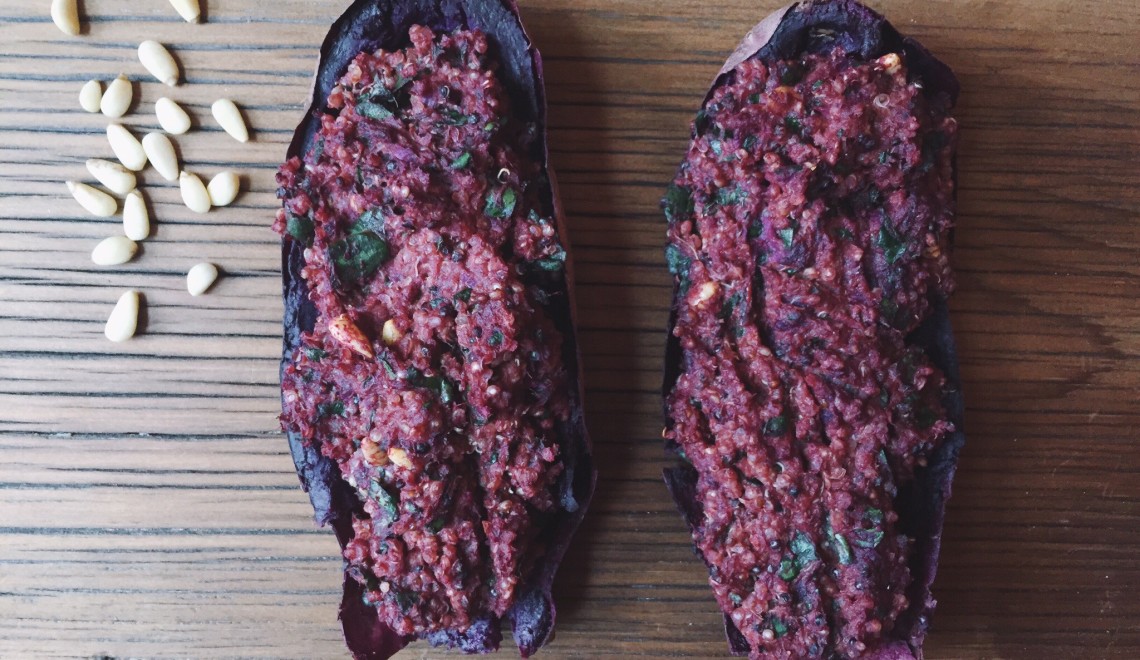 They may not be the sexiest, but these vegan twice-baked sweet potatoes are flavorful and packed with nutrients. We used purple sweet potatoes, which have been popping up at our local farmer's markets and are high in cancer preventing anti-oxidants. This recipe is vegan, but if cheese is your thing than some feta would be a tasty choice! This dish is perfect to serve as a side at dinner, or it is nice paired with a small arugula salad at lunch.
Vegan Twice Baked Sweet Potatoes (serves 4)
Ingredients:
2 purple sweet potatoes, skins cleaned
1 cup quinoa, cooked
3/4 cups hummus
2 tablespoons harissa
2 cups Swiss chard, chopped
1/4 cup pine nuts, lightly toasted
Salt & pepper to taste
Feta (optional)
Directions:
1. Pre-heat the over to 400 degrees. Wash off the sweet potatoes — being sure to remove all dirt. Bake unwrapped for 40 mins or until soft. Remove the sweet potatoes from the oven and allow to cool until they reach room temperature.
2. Reheat the oven to 350 degrees. Cut the sweet potatoes in half and carefully remove the soft insides, being sure to keep the skins intact. In a large bowl, mix all of the ingredients together, including the optional feta.
3. Carefully spoon the sweet potato mixture back into the skins. Sprinkle with additional feta cheese if wanted. Place the sweet potatoes into the oven and cook for an additional 15-20 mins, or until warm.