Eating Vegan in Japan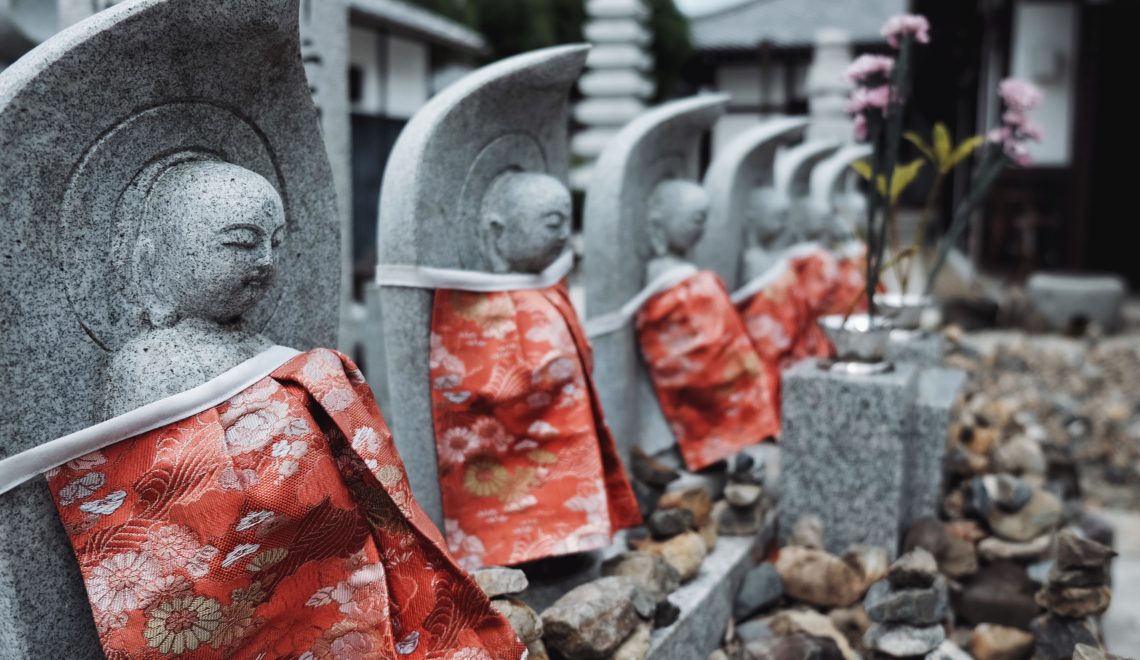 Last month, while planning a two week trip to Japan, I was faced with the dilemma of what exactly I was going to eat while there. As a full-time vegetarian and sometimes vegan, I was unsure how I was going to manage staying vegan in Japan. Friends that had previously traveled to Japan encouraged me to eat fish, as they claimed it was the best they had ever eaten. Yes, I suppose, if there was ever a time and a place to eat fish, sushi in Japan would be it. But, overall I was discouraged by the unsustainable fishing practices Japan is known for. Did I want to contribute to that? I was so overwhelmed that I decided to wing it.
It turns out that was a bad idea! I don't know what I was thinking traveling to Japan and expecting every meal to magically fall into place. Eating vegan in Japan is hard work and sometimes exhausting. If you are traveling to Japan and plan to eat vegan, you need to remember to keep an open mind.
Japan is a beautiful country with a rich history that is embedded in their food. To taste their traditional dishes is to participate in their culture and better understand the history. Luckily, quite a few of the traditional dishes can be made vegan -you just had to find the restaurants making them. I found both Happy Cow and Yelp to be extremely helpful with finding those places. Tokyo has quite a large selection of vegan and vegetarian restaurants ranging in price. If you want to try other cuisines while there, I definitely suggest Indian. The Indian food I ate across the country is some of the best I've eaten anywhere else in the world.
As a plant-eater, Kyoto, which is known for its 30 regionally grown vegetables, is a must. Buddhism has a long history in Kyoto, with over 2000 temples and shrines in the area. Because of this Buddhist history, plant-based diets are more mainstream and understood in the local culture. Kyoto is the place to try a Shojin Ryori meal, which is the traditional vegetarian meal of the Japanese Buddhist monks. Try Shojin Ryori at Shigetsu, the restaurant at the Tenryū-ji temple (gardens pictured below.)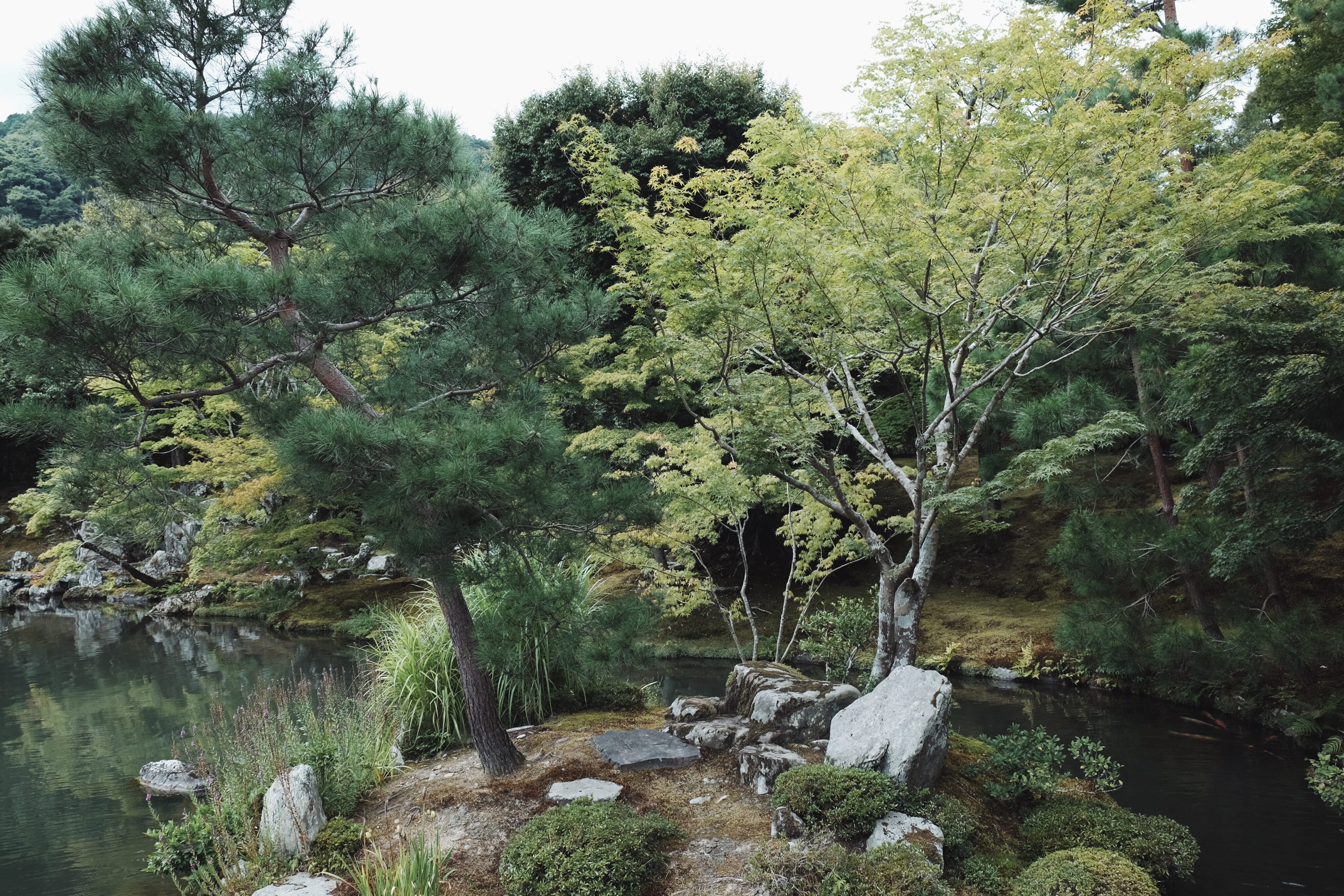 And, because I wish I went to Japan with a few staple restaurants in my pocket:
5 Places to Eat Vegan in Japan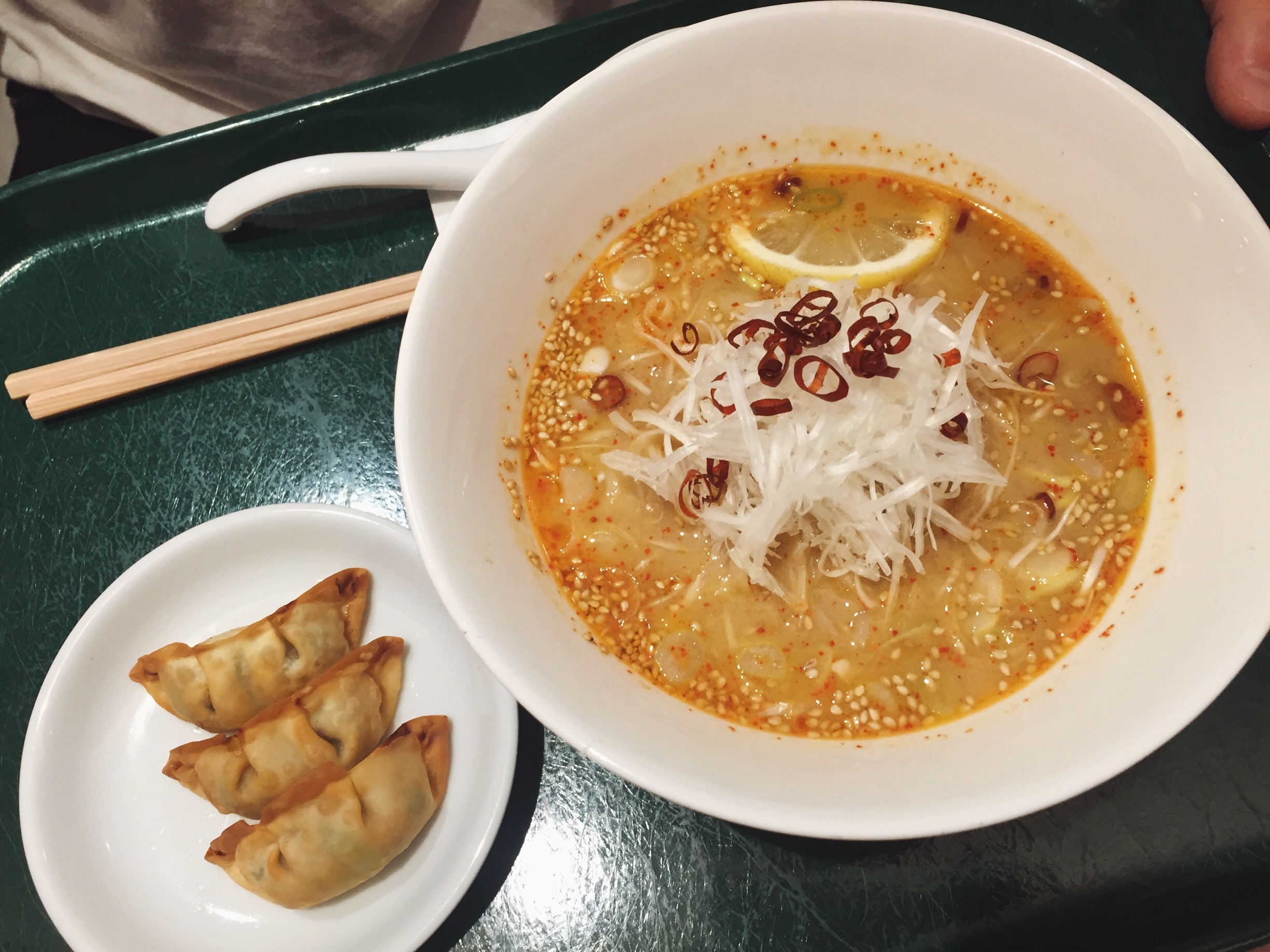 [TOKYO] T's Tan Tan is a complete lifesaver while in Tokyo. It was the go-to when we needed a quick lunch and didn't want to put too much thought into it. T's Tan Tan serves a variety of vegan Japanese ramen that is not only delicious, but also authentic to Japan. It is a little tricky to find because the restaurant is located in the busy Tokyo rail station and also behind the pay gates. If you aren't catching a train and are just coming to the station to go to T's, you can buy a platform ticket that allows you to pass through the pay gates. I believe the platform ticket is around a dollar. It is totally worth paying the dollar, in my opinion! Once through the gates, the restaurant is located in "Keiyo Street" part of the station.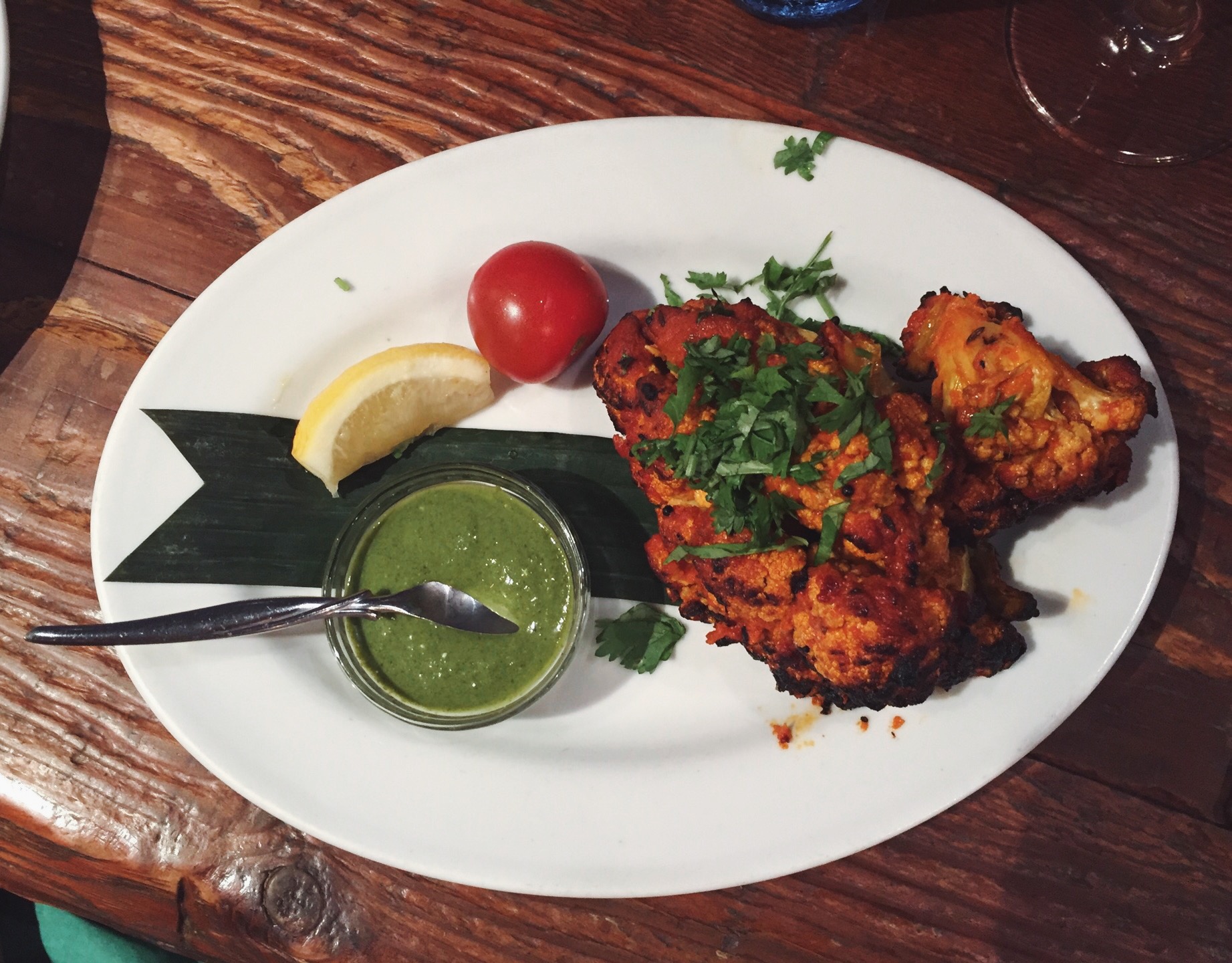 [TOKYO] Okay -Dhaba India is obviously not traditional Japanese food. But, at some point while eating vegan in Japan, you may tire of traditional Japanese flavors and want to try something else. Dhaba India does serve meat, but the English-speaking wait staff are awesome and will tell you what items are prepared vegan. If you find yourself here, you must order the tandoori cauliflower. It's one of the best Indian dishes I've eaten in my entire life. In fact, it is so good that I came here for dinner two nights in a row.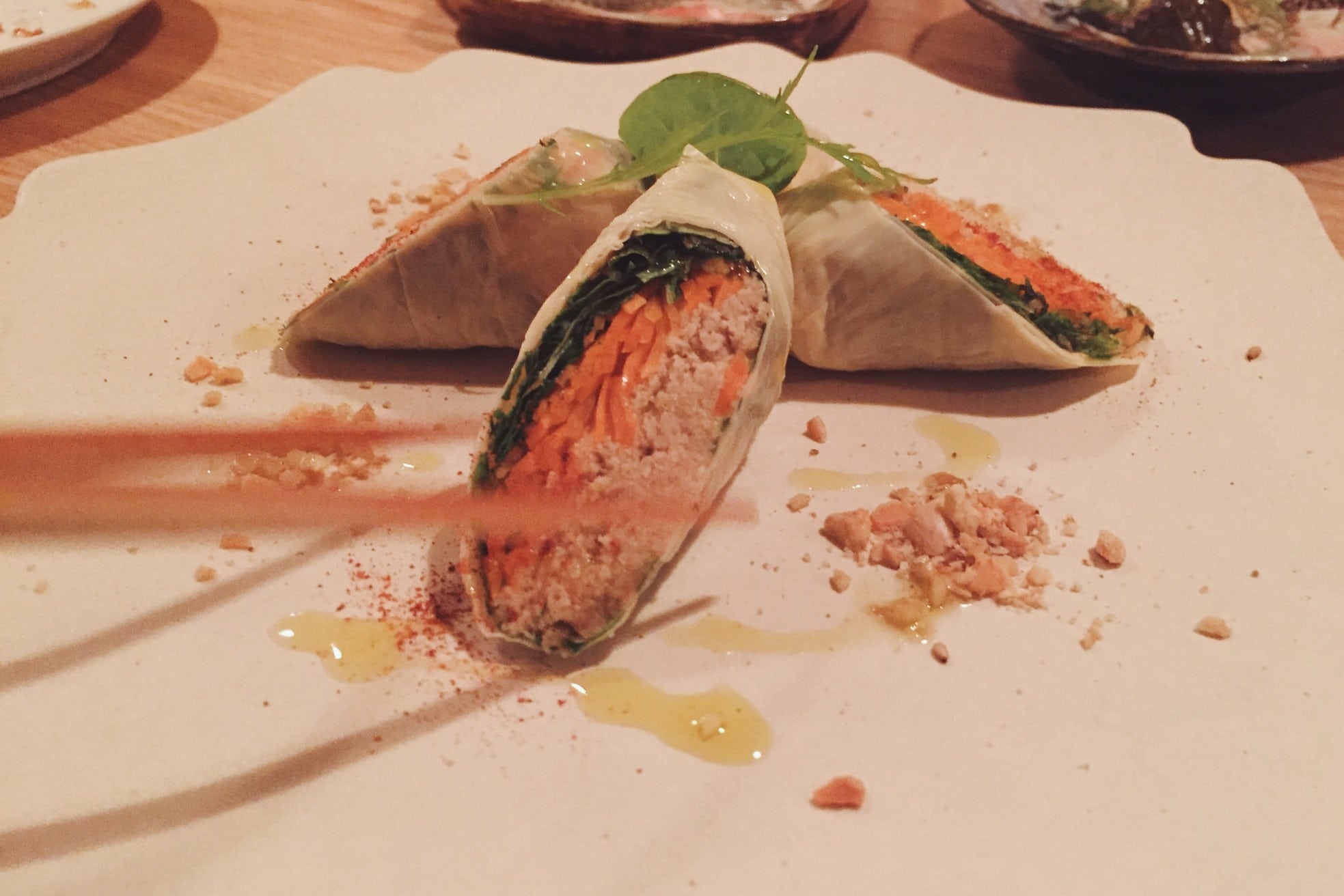 [KYOTO] Ukishima Garden was, by far, my favorite meal in Japan. The small organic, vegan restaurant has a few tables as well as a bar that faces directly into the open kitchen. If you sit at the bar, like we did, you get to watch two badass female vegan chefs make all of the dishes -mostly from scratch. The food and the atmosphere is more upscale than other vegan restaurants in the Japan. This is the place to sit back with a glass of wine and have a long dinner. Order the deep-fried carrots -you won't be sorry.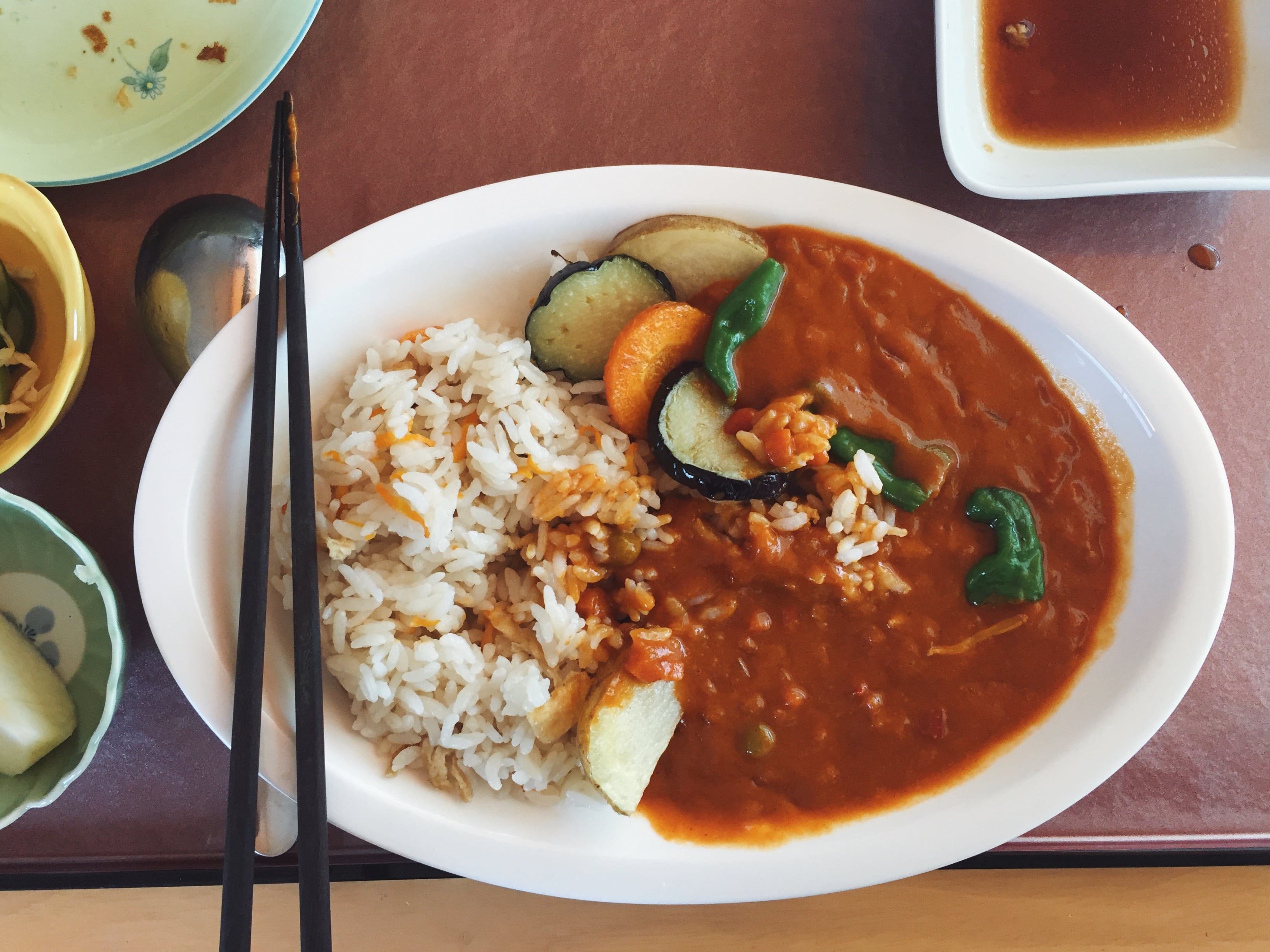 [KYOTO] If you take a trip to Kyoto's famous Bamboo Forest and are hungry for lunch after, a stop into Prunus is a must. The menu is limited to a few items, but they are all delicious and made with love & care. I learned, after eating this meal, that Japanese curry rice is traditionally eaten with a spoon, not chopsticks. Makes sense!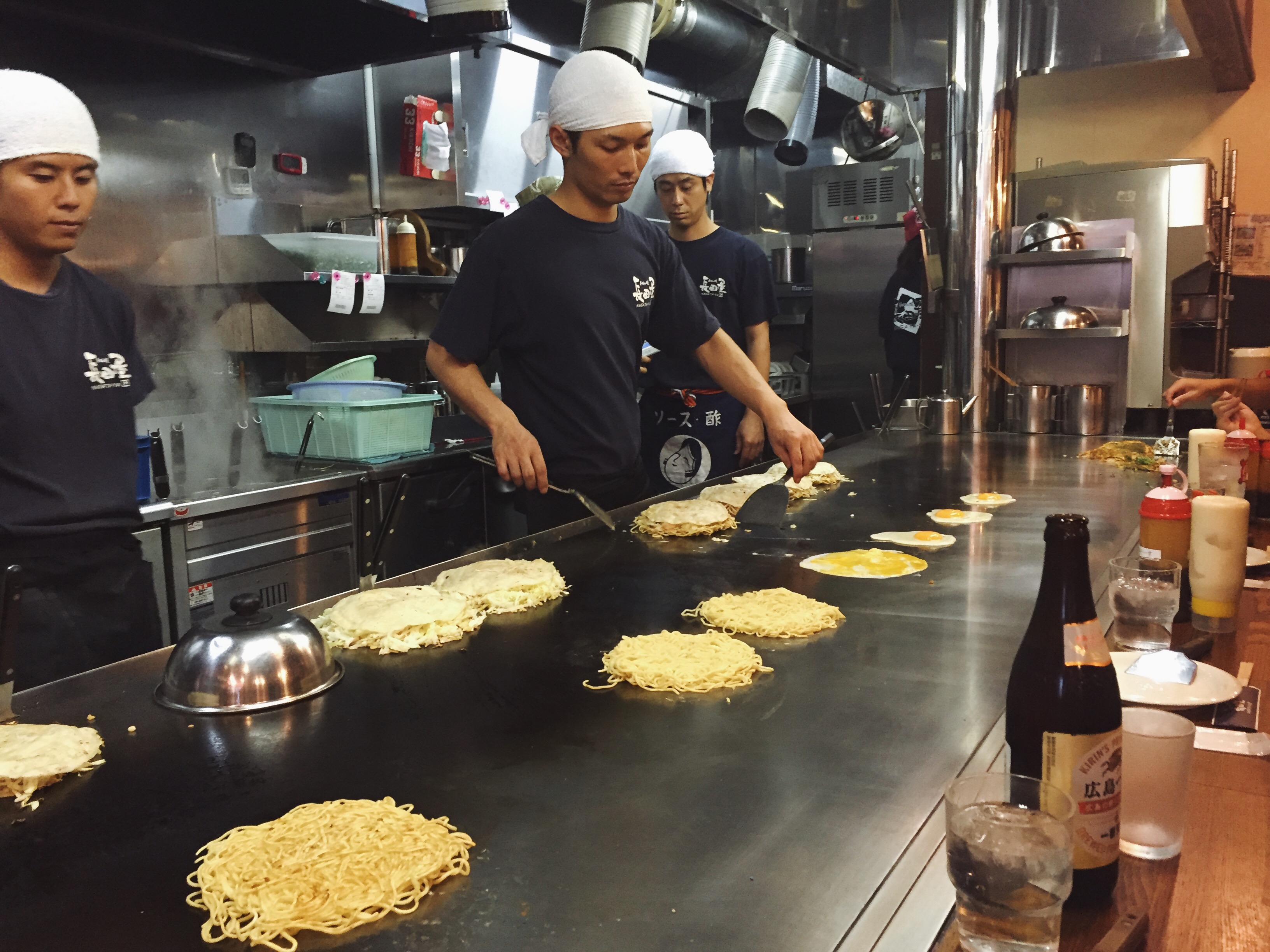 [HIROSHIMA] If you thought vegans can't eat Japan's traditional okonomiyaki, you're wrong. Nagata-ya is the perfect place to try the regional Hiroshima style okonomiyaki, as their menu is split into vegan, vegetarian & traditional sections. The restaurant is a convenient 5 minute walk from the Hiroshima Peace Museum. There is typically a line to get in to the restaurant, but it is worth the wait. They have the experience streamlined -be prepared to give your order before you've gotten a seat.