Soothing Turmeric Face Mask
Over the past year, my previously clear complexion has taken a complete nose dive. Slowly, a red, itchy rash developed over my cheeks and never cleared up. Through research, I learned about the connection between gut microflora health and skin health, and began a journey to clear the rash up (post detailing this transition coming soon). In the meantime, while my systems have been healing, I've been desperate for natural ways to soothe my skin. After trying several creams and remedies that didn't really work, I stumbled upon a turmeric face mask recipe, which has been a complete game changer.
The health benefits and uses of turmeric are boundless. When applied to your skin, turmeric not only helps reduce inflammation, but also acts as a natural anti-microbial. In addition to turmeric, coconut oil and Manuka honey are also added to this turmeric face mask for their anti-microbial properties. Chickpea flour and the lactic acid from the greek yogurt help exfoliate and remove dead skin.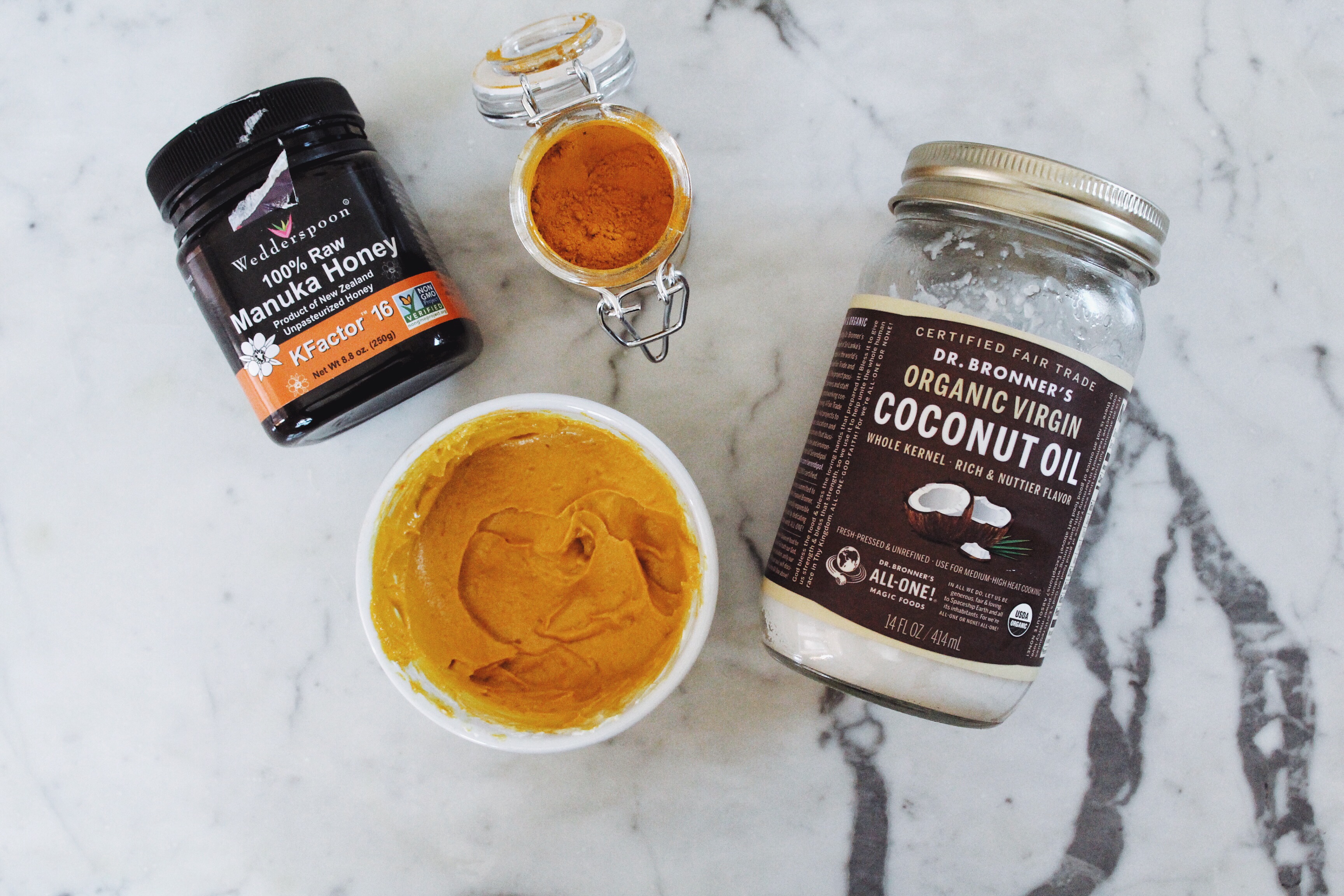 To get the bet results from this soothing turmeric face mask, apply the mask for 3-4 consecutive days, once a month. After the third use, my skin rash felt less itchy and looked visibly reduced. The texture of my skin also felt smoother and looked brighter. Use caution when washing the mask off! Turmeric will stain your shower grout if left to dry. Also, if left on for too long, the mask can stain a fair complexion. Face wash will easily remove any residue left on your face.
Soothing Turmeric Face Mask  
1 tablespoon ground organic turmeric
3 teaspoons organic greek yogurt
1 teaspoon organic chickpea flour
1 tablespoon organic coconut oil
1 teaspoon raw Manuka honey
2 drops turmeric essential oil
Directions
Mix all ingredients together in a small glass bowl until completely blended
Using a clean foundation brush or the back of a spoon, spread a thin layer of turmeric face mask over your face, making sure to keep the mixture out of your eyes
Let the mask dry for 10-15 minutes and then wash off with warm water
Repeat for 3-4 consecutive days, once a month