Green Dream: Anti-Inflammatory Smoothie Bowl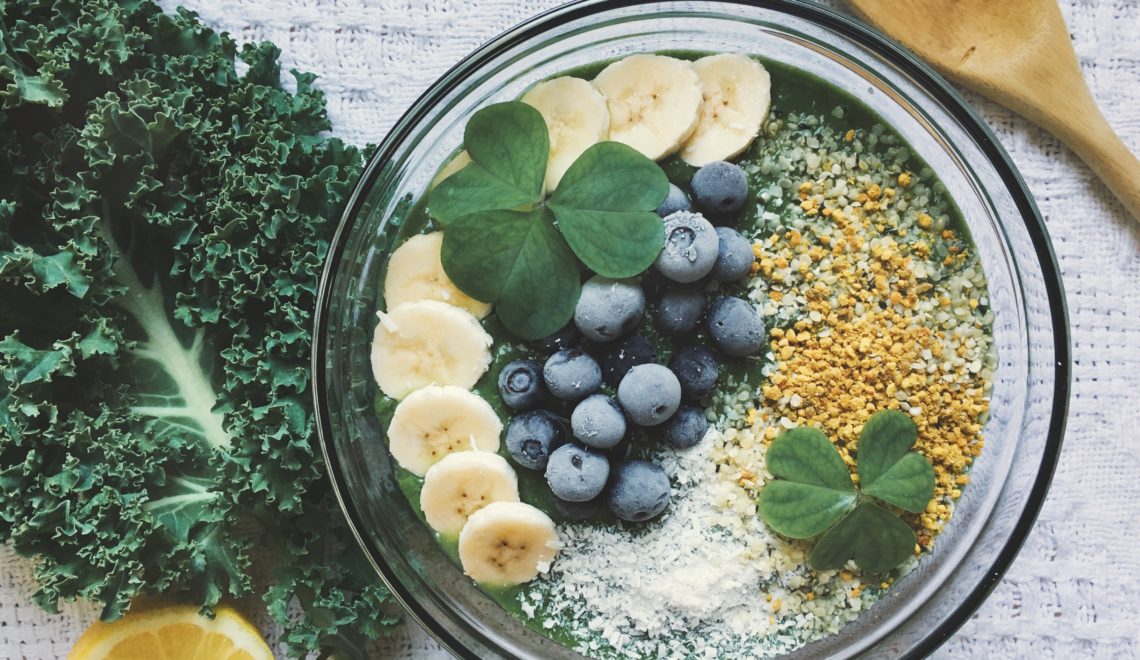 Seeing that I'm at least part Irish, I'm completely going against the grain with this one. But, who doesn't need a taste of recovery after St. Patrick's Day?! Whether your body is depleted from excess alcohol, you've stayed up all night holding your best babes hair back, or you put in an extra sweat session at the gym… we got you! I personally make a variation of this gleaming green gem of a anti-inflammatory smoothie bowl almost every morning. It feels so good on the belly, and knowing it's reviving and restoring every cell in my body is pretty epic.
Before I get into the smoothie, I'm going to guilt trip you for a minute. I love throwing back an Irish Car Bomb or sipping a Black & Tan just as much as anyone; even though I am well aware of the taxing effect it has on my body. So, let me break down the toll alcohol takes on your system real quick…
Not only does alcohol deplete essential vitamins and nutrients in our system; it can actually inhibit nutrient absorption.
B-complex vitamins are destroyed significantly, leading to anxiety and depression.
Alcohol depletes vitamin C, magnesium, potassium, zinc, and iron to name a few; resulting in fatigue, lethargy, apathy and depression.
A loss or lack of these vitamins and minerals leads to inflammation, dehydration and electrolyte imbalance.
Now, with all that being said, let's get into the incredible benefits these fruits and veggies have that come together to make up this anti-inflammatory smoothie bowl.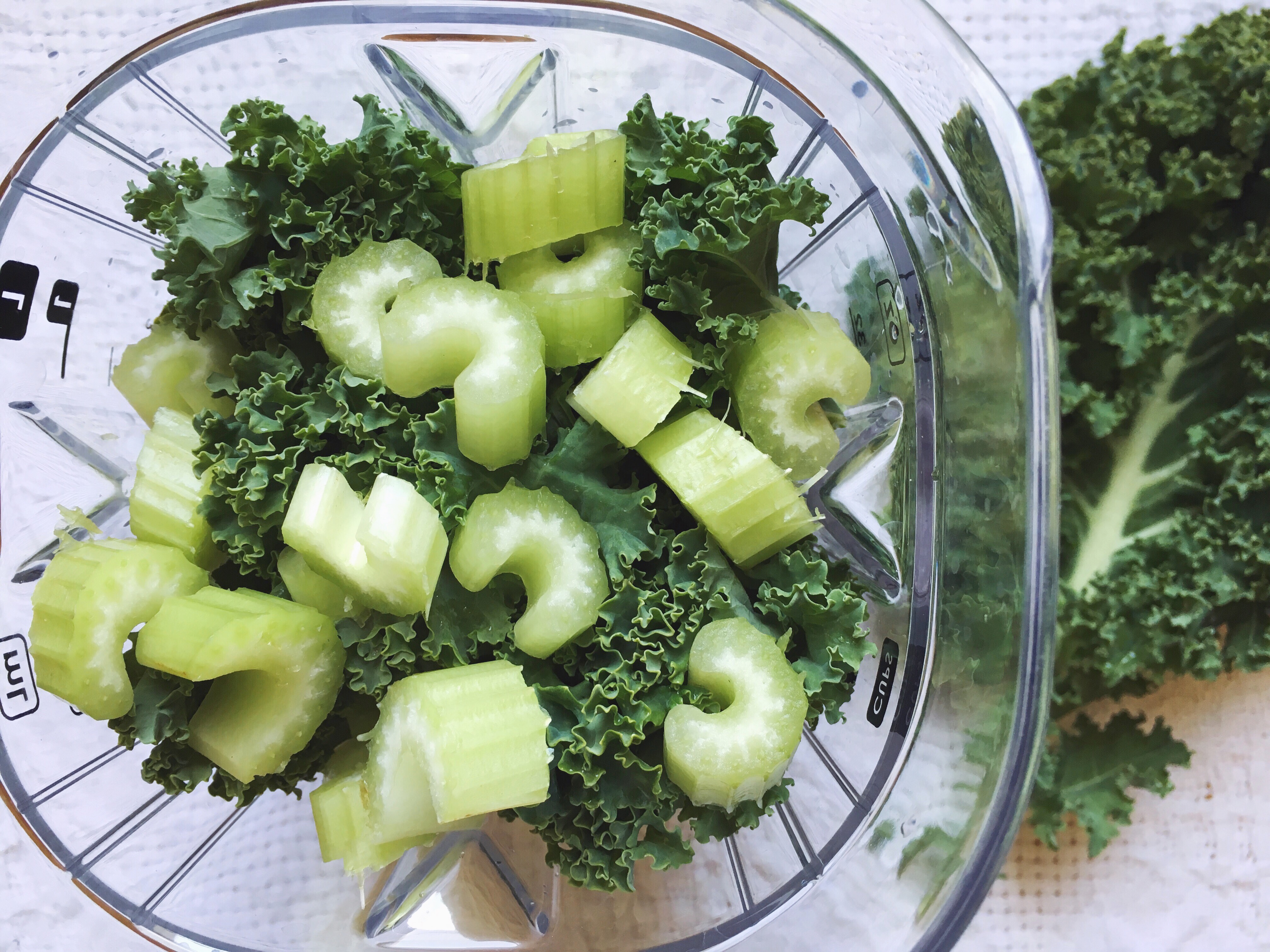 Fruits n' Veggies
Spinach:
High in fiber, protein, iron, potassium, magnesium, vitamin A, C, E, K, B2 & B6
Anti-inflammatory
Celery:
Contains the compound luteolin, which helps lower inflammation.
Helps rebuild healthy pH in the stomach.
Kale:
Sulforaphane, an enzyme that's triggered in the plant when blended, chewed or chopped, helps activate inflammation-fighting antioxidants.
Lettuce:
Antioxidant
Helps lower inflammation
Mango:
Contains powerful antioxidants and minerals that help neutralize free-radicals
High in potassium, magnesium, quercetin, and vitamins B6, A and C
Improves digestion while alkalizing the entire body.
Banana:
Antioxidant
Helps control blood sugar
Rich in fiber, potassium and magnesium
Note** Fibrous veggies are rich in prebiotics, which help keep the gut healthy and vibrant!!!
Additions:
Anti-cancer & anti-inflammatory
Alkaline
Protects cells from heavy metal toxicity
Aids in the removal of toxins (alcohol)
Delivers essential oxygen & magnesium to your liver
Green Adaptogen by Sun Potion:
Chlorella:  A detoxifying freshwater algae containing essential fatty acids, 50% protein & 10% chlorophyll, making it one of the most nutrient dense foods. Rich in iron, magnesium, zinc & vitamins A, B2 & B3.
Maca:  Known to some as Peruvian ginseng, this root is rich in vitamins B, C & E. As well as containing substantial amounts of calcium, magnesium, zinc & iron. Effective in balancing both energy & hormone levels.
Suma:  A Brazilian root that contains energizing electrolytes & B vitamins. In addition to antioxidants, amino acids & essential vitamins & minerals.
Smoothie Bowl Recipe:
1 1/2 – 2 cups spinach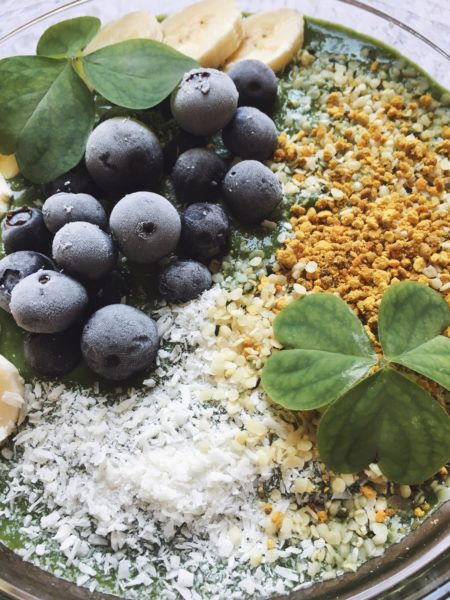 2 large romaine leaves
1 large or 2 small kale leaves
1 stalk of celery
1 fresh or frozen banana
1 cup frozen mango
1/2 – 1 cup coconut water or coconut milk/nut milk
15 drops chlorophyl
1/2 tbls Sunpotion's Green Adaptogen powder
In a high-speed blender add liquid, chopped veggies & frozen fruit. I like to use both frozen mango & frozen banana so it has a nice ice cream-like texture; but fresh will do, too! Blend until liquefied. Add in the chlorophyll & Green Adaptogen powder. Blend until combined. I often just drink as a smoothie but it's amazing as a bowl too. I topped mine with bee pollen, shredded coconut, hemp seeds, bananas & blueberries : )
What are your favorite green smoothie recipes? We would love for you to share with us : ) Hope you all have a safe & amazing St. Paddy's Day!!!