Creamy Vegan Kale Pesto Zoodles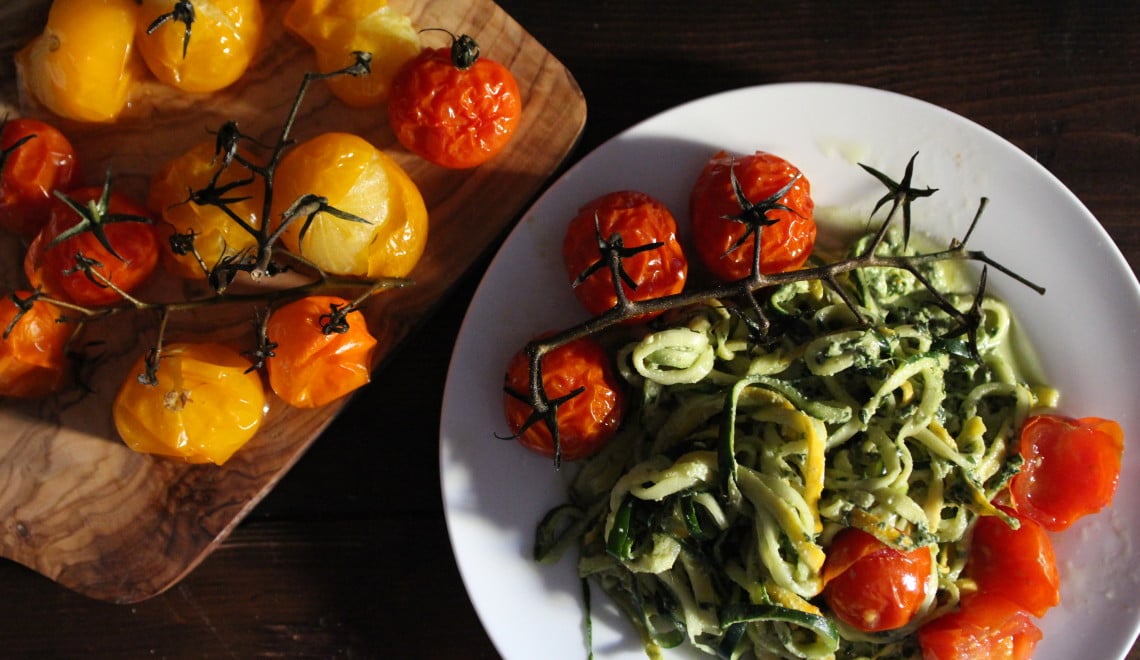 As we enter the colder, winter months, dark leafy greens, like kale and collard greens, come into season. Break away from the kale salad routine with this nutrient dense, low-carb  Creamy Vegan Kale Pesto Zoodles recipe. Any dark leafy green can be substituted for kale, so feel free to add whatever fresh greens you find at your local farmers market.
To make the zucchini noodles, you will need a spiralizer. We prefer the smaller handheld spiralizers, like this one here, rather than the other bulkier options. If fresh zucchini aren't available, you can use beets or sweet potatoes as an alternate.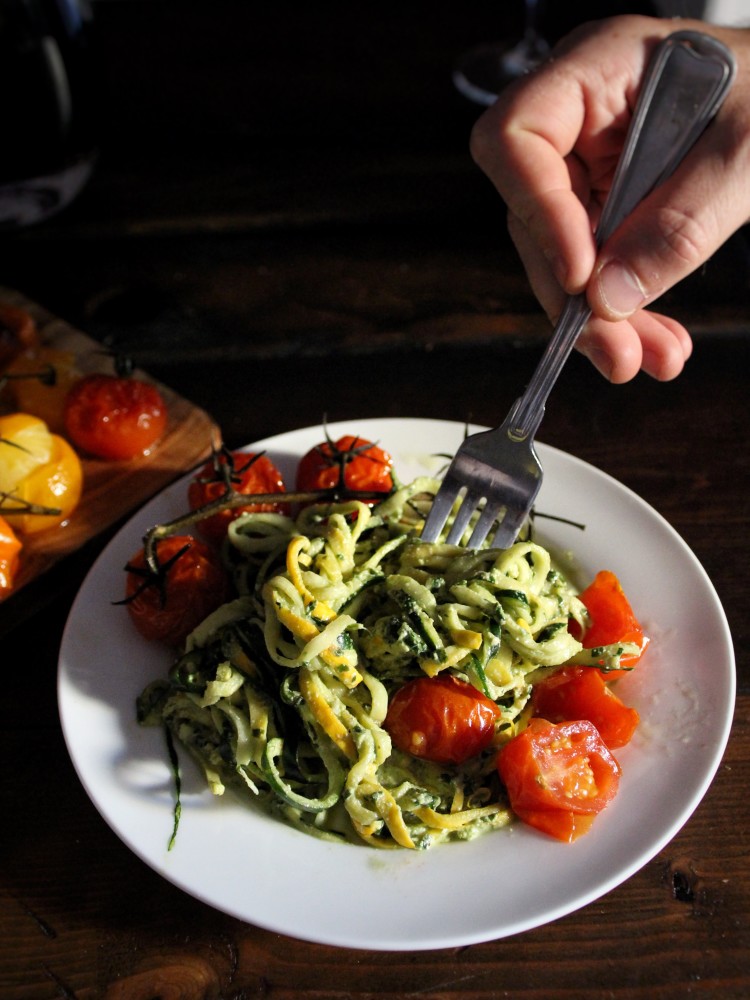 Creamy Vegan Kale Pesto Zoodles
Sevres 4
2 bushels of kale, washed with stems removed
1 cup basil
3/4 cup walnuts
1 tsp nutritional yeast
2 cloves garlic
1 tsp salt
3/4 cup cashew cream
1/3 cup extra virgin olive oil
6-8 zucchinis or yellow squash
3 cups cherry tomatoes on the vine
1. Put the cherry tomatoes on a baking pan, coat in olive oil and cook in the oven at 400 degrees for 20 mins until blistered. Put aside after cooked.
2. After washing the zucchinis, use the spiralizng tool to make zucchini noodles. Put the noodles in a bowl and toss with 1/4 cup salt and leave for 20-30 mins to remove excess water. Make sure to rinse the noodles of all salt before adding to pesto mixture.
3. In a food processor, add kale, basil, walnuts, salt & nutritional yeast and process until mixed evenly. Then, with the processor set to a low speed, gradually drizzle in the olive oil.
4. In a sauce pan over medium heat, add the kale pesto mixture and cashew cream and mix until heated. Then, add the washed zucchini noodles. Toss the noodles in the sauce and heat for 1 minute. Serve immediately with side of blistered tomatoes.